Frenchay Out Of School Club
SEP 23 UPDATE: We are currently full Monday, Tuesday, Wednesday and Thursdays at the After School Club as well as Monday to Thursday mornings Please contact This email address is being protected from spambots. You need JavaScript enabled to view it. to go onto the waiting list.

This club opened in September 2014 and runs Monday to Friday before and after school, from 7.40am to 6pm.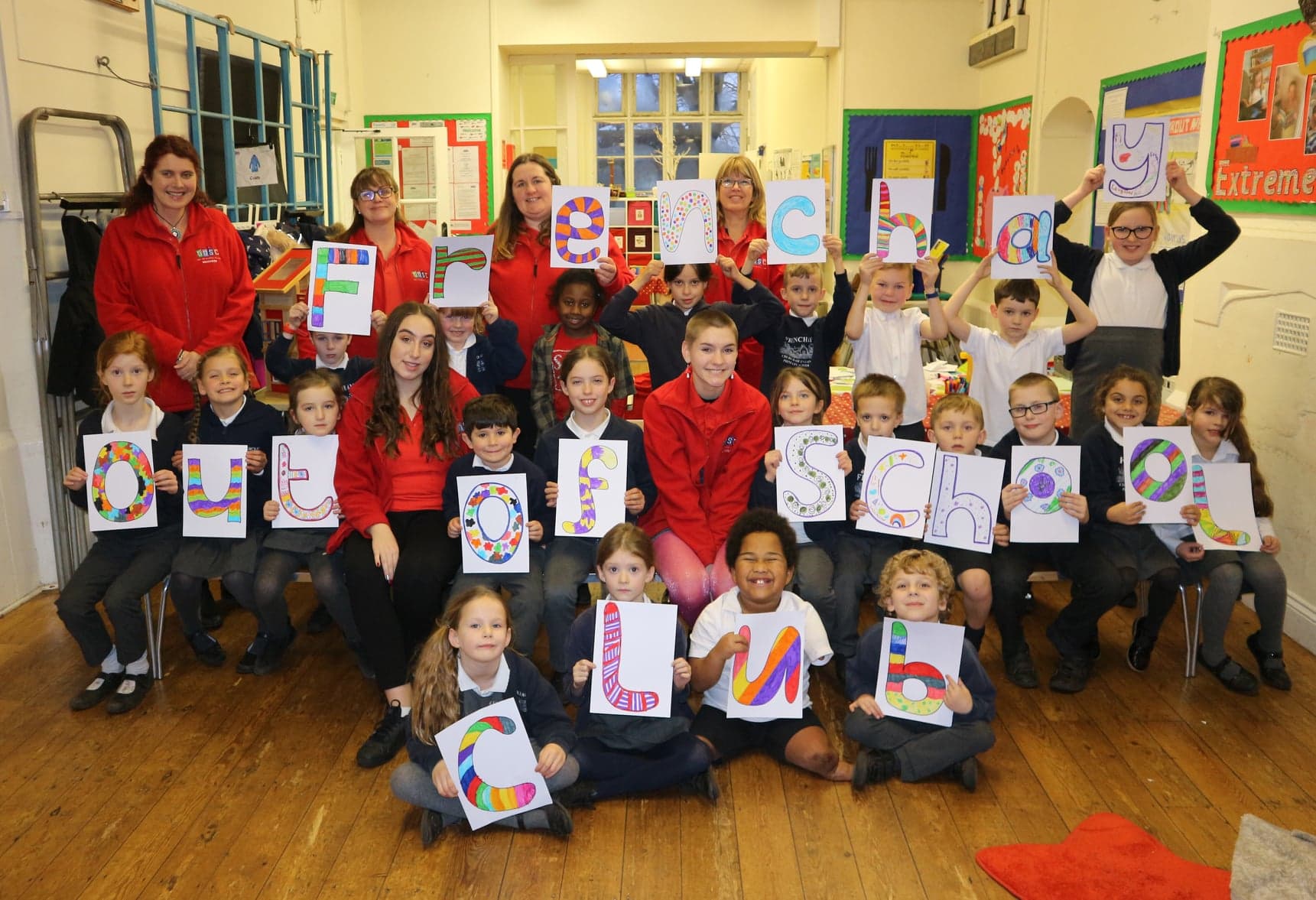 Our Amazing Ofsted Report from November 2019!:
We are pleased to say that in November 2019 Frenchay OOSC was judged at the highest grade now available to us: Met (with no actions). We are delighted with the feedback we received from the inspector about the quality of care we provide. Below are some of the many positive comments in the report:
'Children enjoy their time at the club. They eagerly arrive and happily talk with staff about their day at school.
'Staff have formed lovely bonds with the children and know the children well. They value their opinions and use their knowledge of the children along with children's suggestions to plan fun, exciting activities.
'Children behave well and staff show a consistent approach to managing children's behaviour. Staff talk with children about their behaviour and what the expectations are while they are at the club
'Children are kind and show concern for others.'
'Staff create an extremely inclusive environment where diversity is highly respected. They are excellent role models and treat children with high levels of respect. Children with special educational needs and/or disabilities (SEND) are well supported.
'Staff know the children well and genuinely care about the children's enjoyment while at the club.
'The views of children and parents is given high priority.
'Staff enthusiastically join in ball games with the children, they play football and basketball. They offer lots of praise and encouragement to boost children's self-esteem and confidence.
'Staff supervise children closely at all times outdoors and children are aware of the rules and expectations when outside.
'Parents speak highly of the club. They comment that they are very happy with the care provided and that their children enjoy their time at the club. They state that staff are friendly and give good feedback when they collect children at the end of the day.
'Children are highly independent, they make wraps for their snack and wash up their plates and cutlery when they have finished.
'Snack time is a sociable time, staff engage children in conversations and listen intently to what children have to say.
'(Staff) take into account children's interests when planning activities and gather children's feedback to help them reflect on activities provided.
'Staff deploy themselves effectively to supervise children during their play and to provide them with the support they need'.
The full Ofsted report is available to view here
Prior to Spetember 2019, out of school clubs were eligible for the school/preschool Ofsted grading system and Frenchay OOSC was rated 'Good' in July 2016
'Children develop good self-confidence and social skills, and are very independent'. They 'treat others with kindness and respect.' Ofsted 2016.
Further details Club
FRENCHAY OUT OF SCHOOL CLUB Ofsted Reg: EY2715469 (new from 16th November 2022)

Frenchay C of E Primary School, Alexander Road, Frenchay, Bristol BS16 1UZ
Staff team: Caroline, (Supervisor), Rosie, Sarah, Rob, Emma, Holli and Cath,
Breakfast Club Monday to Friday 7.40-8.50am
After School Club Monday to Thursday 3.30pm-6:00pm, term time. Now open Fridays from October 2022 3.30-5.30pm
FRENCHAY OUT OF SCHOOL CLUB, CLUB HOURS MOBILE: 07935 754355
The club runs from our new club room with a wide range of activities on offer for all ages to enjoy, inside and outside. At the end of the school day, children in Key Stage One attending the club are collected from the classrooms by a staff member. Children in Key Stage Two come straight to the club at 3.30pm. They are registered by our club staff then can choose to play or to eat a healthy snack such as toast, wraps and fruit.
They can choose to eat any time between 7:40am and 8.30am (breakfast club) and 3.30pm and 4.15 pm. There is a range of craft, play and role-play equipment available and a large selection of outdoor activities as well as a relaxation area. Cooking and craft activities are included in the session fee - pop in and visit after school any time!
Thank you for our lovely recent parental feedback:
I want to take this opportunity to thank all the team so much for their excellent work - every member of OOSC staff I met was *always* smiley, good-humoured, and boundlessly patient. Gabriel loved breakfast and after school club and was always excited on the days he got to go, and that moved it from being something that was 'just' wraparound care to being a real enrichment to his life... I would unhesitatingly recommend OOSC to any parent.'
Sarah - July 2020
I hope you are well. We are missing you and all the staff - Sol has said several times that he misses OOSC more than school!
Vicky - July 2020
I just cannot imagine life without you guys, I would do anything to support you. I can confirm that I can keep paying our fee for the following months.Thank you for your support always, will miss your smiling faces so much!
Hugs from Dimi and me! - Iliyana -March 2020