Charlton Wood Out Of School Club - JULY 2020 UPDATE - we will be open again in September 2020 - please register your interest below. We will be in touch very soon with revised fee infrormation and our revised procedures. We look forward to seeing you very soon!
Charlton Wood Out of School Club opened on 4thSeptember 2019.
The club runs from 730am until the start of the school day and from 3.15-6pm from the school club room, with use of the outdoor areas. Children may be dropped off at the rear playground gate for breakfast club and taken to their classrooms to enjoy a healthy breakfast in the morning. Children are collected from their classrooms at the end of the day and brought to the club and provided with healthy snacks on arrival at after school club.
CHildren are able to enjoy a range of activities, indoors and outdoors while supported in their play by a team of qualified and experienced playworkers.
OOSC is an Ofsted Registered service with many years' experience.
Fees include all food, insurance, activities and resources. For ease of payment, this is arranged as a monthly transfer, from £33 per month (for one session per week) payable over 11 months of the year.
We accept Childcare Vouchers.
2020-2021 Fee update: WE ARE CURRENTLY OFFERING 10% OFF full-time bookings - Monday to Friday!
We also provide an Ad Hoc service where bookings may be made online up to 10pm the evening before the session, subject to availability.
Please register your details using the 'Registration' link above and we will contact you with details of our fees and admissions arrangements.
Or send us an email to This email address is being protected from spambots. You need JavaScript enabled to view it. with your requirements and we will be in touch as soon as possible.
We look forward to meeting you soon!
STOP PRESS: Watch this space for OOSC holiday club!
After School Club
CHARLTON WOOD OUT OF SCHOOL CLUB Ofsted Registration: EY2555117
Charlton Wood Primary Academy, Charlton Boulevard, Bristol, BS34 5BN
OOSC Manager: Cath Purchase
Monday-Friday 7.30 to 9am and 3.15pm - 6:00pm, term time.
CHARLTON WOOD OUT OF SCHOOL CLUB, CLUB HOURS MOBILE: 07935 754547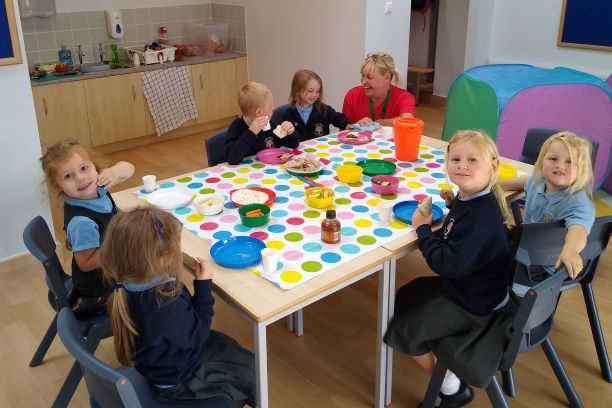 Charlton Wood Out of School Club runs from the new school site, with use of all outdoor areas. At the start and end of the school day, children attending the club arrive and are registered by our club staff, then can choose to play or to eat a healthy snack such as breakfast, wraps, toast and fruit. They can choose to eat any time between 7.30am and 8.15am and 3.20pm and 4pm. There is a range of craft, play and role-play equipment available and a large selection of outdoor activities as well as a relaxation area with books and games. The club phone is available during club hours, or text 07935 754547 and we will pick this up at 7.30am and 3pm.
Drop off and Collection is made from the side playground gate (nearest to the large adventure playground) - just ring the doorbell and a staff member will come and meet you! All snacks, cooking and craft activities are included in the session fee - we look forward to meeting you soon!