Holiday Club
We have been providing high-quality after school care at St Helen's since Easter 2009 and Holiday Clubs since summer 2012.
Holiday Club
OOSC HOLIDAY CLUB - OPEN TO ALL LOCAL PRIMARY-AGED CHILDREN registered with OOSC
FULL TIME during all holidays (excluding bank holidays) from February - October Monday-Friday 8:00am - 6:00pm
please note summer holiday club is FULL on 7th and 9th August, close to full on 15th and 22nd August and we have limited availability on all other days
The Club Classroom, St Helen's Primary School, Alveston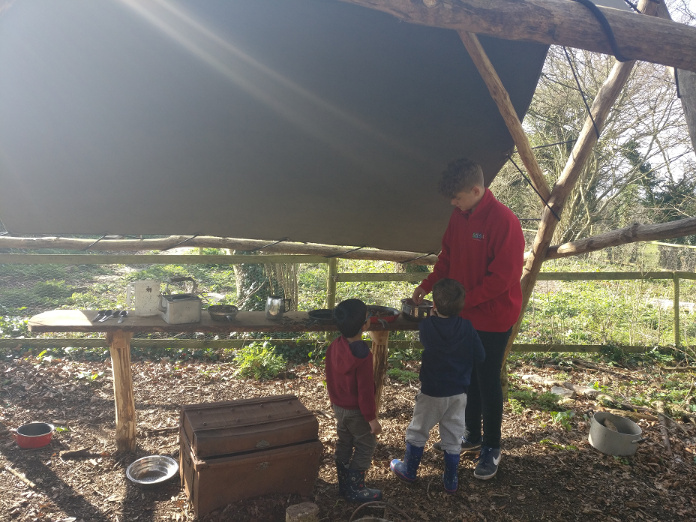 HOLIDAY CLUB HOURS MOBILE: 07767 218709
Book Now for MAY and SUMMER Holiday Club, using the link to the right of this page.
FOR 10% off: By Friday 6th July for Summer Holiday Club.
Ofsted (2015) commented:
'Staff are skilled and knowledgeable about the children' who have 'stimulating experiences' and 'encourage their independence and social interactions'
The children 'behave exceptionally well' and are 'fully involved in preparing club rules'
Staff 'encourage children's risk taking' and 'encourage children to make independent choices about their play'.
There is 'an abundant range of stimulating toys' and 'children benefit greatly from a well-equipped outdoor environment'
'staff encourage children's understanding of safe practices exceptionally well'
Children 'have a good sense of belonging'
The children 'comment positively on how they like meeting new people and the friendliness of the staff'
Children may be dropped off and collected at any time during the opening hours.
The holiday club has use of all the school's outdoor facilities and is run by our team of qualified and experienced OOSC staff. The cost is £26 per day, with an 'early bird' reduction of 10% available for bookings made and payment received by a published date (see fees above). We also offer a large family discount, with 3rd and 4th children half price. We accept Childcare Vouchers.
The cost includes all activities, insurance and regular drinks and snacks. There is a wide range of activities on offer including:
cooking
craft
construction
snooker
table football
all-weather pitch
fun in the woodland area
plus free choice of indoor and outdoor play
Children may bring their own packed lunch (no nut products please), or may pay an extra £2 for a light meal such as wraps, pasta, beans on toast, etc, plus fruit, snacks and yoghurts. This must be booked in advance.
The holiday club is open to all Primary-aged children in the locality. Once OOSC registration has been completed you will be able to book sessions online, using the Sessions Calendar, Sessions List or Quick Bookings menu. Holiday Club bookings can be now made up to 10PM the day before the session date.
We require a Holiday Club Registration Form and Medical Form to be completed for each child attending the Holiday Club. These Forms are available online to logged-in customers.
HOLIDAY CLUB HOURS MOBILE: 07767 218709
Holiday club Supervisors and Playworkers : Mandy, Viv, Freda, Cath (Leaders), Lauren, Kieran, Robyn P, Abbie, Mia, Sid, Renata, Marina, Francesca, George and Stuart