Holiday Club
We have been providing high-quality after school care at St Helen's since Easter 2009 and Holiday Clubs since summer 2012.
Holiday Club
OOSC HOLIDAY CLUB - OPEN TO ALL LOCAL PRIMARY-AGED CHILDREN registered with OOSC
FULL TIME during all holidays (excluding bank holidays) from February - October Monday-Friday 8:00am - 6:00pm
The Club Classroom, St Helen's Primary School, Alveston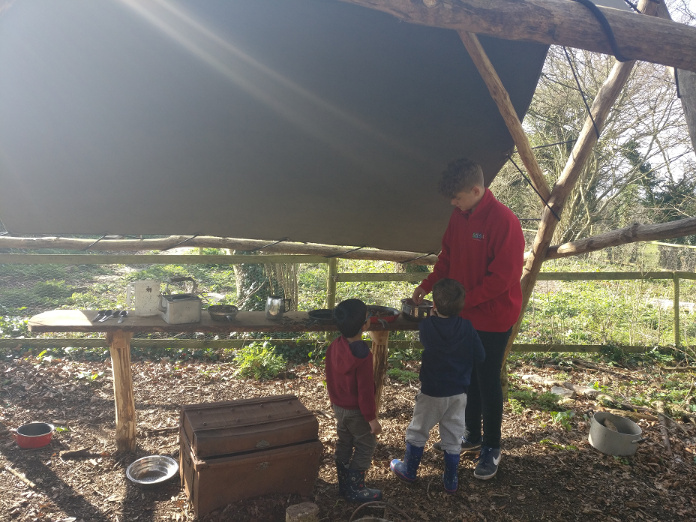 HOLIDAY CLUB HOURS MOBILE: 07767 218709
Book Now for MAY and SUMMER Holiday Club, using the link to the right of this page.
FOR 10% off: By Friday 11th May for May holiday club and Friday 6th July for Summer Holiday Club.
Ofsted (2015) commented:
'Staff are skilled and knowledgeable about the children' who have 'stimulating experiences' and 'encourage their independence and social interactions'
The children 'behave exceptionally well' and are 'fully involved in preparing club rules'
Staff 'encourage children's risk taking' and 'encourage children to make independent choices about their play'.
There is 'an abundant range of stimulating toys' and 'children benefit greatly from a well-equipped outdoor environment'
'staff encourage children's understanding of safe practices exceptionally well'
Children 'have a good sense of belonging'
The children 'comment positively on how they like meeting new people and the friendliness of the staff'
Children may be dropped off and collected at any time during the opening hours.
The holiday club has use of all the school's outdoor facilities and is run by our team of qualified and experienced OOSC staff. The cost is £26 per day, with an 'early bird' reduction of 10% available for bookings made and payment received by a published date (see fees above). We also offer a large family discount, with 3rd and 4th children half price. We accept Childcare Vouchers.
The cost includes all activities, insurance and regular drinks and snacks. There is a wide range of activities on offer including:
cooking
craft
construction
snooker
table football
all-weather pitch
fun in the woodland area
plus free choice of indoor and outdoor play
Children may bring their own packed lunch (no nut products please), or may pay an extra £2 for a light meal such as wraps, pasta, beans on toast, etc, plus fruit, snacks and yoghurts. This must be booked in advance.
The holiday club is open to all Primary-aged children in the locality. Once OOSC registration has been completed you will be able to book sessions online, using the Sessions Calendar, Sessions List or Quick Bookings menu. Holiday Club bookings can be now made up to 10PM the day before the session date.
We require a Holiday Club Registration Form and Medical Form to be completed for each child attending the Holiday Club. These Forms are available online to logged-in customers.
HOLIDAY CLUB HOURS MOBILE: 07767 218709
Holiday club Supervisors and Playworkers : Mandy, Viv, Freda, Cath (Leaders), Lauren, Kieran, Robyn P, Abbie, Mia, Sid, Renata, Marina, Francesca, George and Stuart
Fees
Fees are £26 per day.
Large family discount where 3rd and 4th child are half price.
Early bird discount of 10% for all bookings made and payment received:
By Friday 11th May for May holiday club and Friday 6th July for Summer Holiday Club.
If paying by childcare voucher we require payment by the published cut-off date in order to qualify for the early bird discount. Please remember Childcare voucher companies take up to 5 days to process payments.
We accept payment by credit/debit card, PayPal or employee childcare voucher transfer provided you have registered with us to accept them.
Fees for bookings cancelled within one week of the session date are non-refundable. NO BOOKINGS MAY BE ACCEPTED ONCE WE REACH OUR DAILY MAXIMUM NUMBER of 25
Welcome Letter
April 2018
Dear Parents
Thank you for your holiday club booking (or interest in booking!). For those of you who have previously attended the club you will know some of this information already but please take time to remind yourself of the requirements of the club. The holiday club is situated at the rear of St Helen's school in Alveston, and we are lucky to have use of our own club room plus the school's outdoor areas, all-weather pitch and wooded area.

LOCATION / ACCESS
For those of you unaware of the location of the club, the school is situated just off the A38 in Alveston, next to the church - postcode BS35 2QX. Access to the holiday club is via the upper gate (to the right hand side of the bins) which will have our coded lock attached. The code for access can be found on your confirmation email, after booking online - please reset the lock each time you pass through, and only share the code with those adults authorised to collect your child and NOT any children. If we discover a child is aware of the code we will change the code and notify all parents. The club room is situated to the rear of the school, through the main playground and past the outdoor covered area. It is the end temporary classroom on your right. You will need to make contact with a staff member and sign your child in and out. Drop-off and collection may be made at any time between 8am and 6pm.

WHAT TO BRING
Children may need to bring an extra pair of old outdoor shoes or wellies if the wooded area is likely to be wet and muddy. A change of clothes, suncream and a hat would be useful too. Please send children in casual clothes and shoes that you do not mind them playing in (no flip-flops please) - that's why they are with us! If you choose not to take the option of a club meal for £2 extra (pre-booked) you will need to provide a packed lunch (no nut products please). The children will be given breakfast and regular snacks and drinks throughout the day (see below) so please do not send them in with sweets or chewing gum as it leads to competitive behaviour and we will have to ask children to hand in their snacks to a member of staff for the child to take home at the end of the day. Children will NOT need to bring computer games, ipods or mobile phones - we have all your contact details and if you need to contact us for any reason please ring the holiday club mobile number below. Spare clothes/ muddy boots may be left at the club if required.
FOOD
There will be breakfast provided between 8.30am and 9.30am consisting of cereal, toast and fruit. There will be a snack at 10.30 of fruit and drinks, and lunch will be 12-1pm. There is a light snack at 4-4.30pm of toast, crumpets and fruit and drinking water will be available all day. We are able to provide a range of lunches for £2 per day – we will serve meals such as tomato pasta, cheese/ ham/salad wraps, beans on toast etc with yoghurts, fruit and snack bars. If you havent booked a lunch online, please let us know in advance, by email or at the club at least 48 hours before if you require club lunches. You cannot book on the day. Payment will need to be made in advance, by Childcare Voucher or BACS or cash on the day. Cheques (to 'OOSC') will be accepted for payments above £10. We will have all your child's medication information on site, but please let us know if they have any food allergies or concerns on the Registration form.

ACTIVITIES
There are a large number of activities available for the children to enjoy. If your child wants to paint or make junk models all day, or design and make an enormous lego model, that's fine! Children need 'down time' in the holidays and we will provide opportunities for them to relax as well as play. There will also be a range of structured activities on offer such as cooking or craft, as well as outdoor games and den-making in the woods.
We are committed to providing an environment where children take 'managed risks' and learn new experiences. We are aware how much the children enjoy taking part in activities such as toasting marshmallows around a bonfire, den-building and climbing trees, and encourage children to carry out these activities under close supervision.
Please note:
All activities will be closely supervised by experienced club Playleaders with a high ratio of children to adults.
Only OOSC qualified adults will light a fire in the wooded area and the fire will never be left unsupervised.
All areas will be risk-assessed daily before children use them.
Children may not use their own bikes or skateboards
A first aider will always be present with the club phone, contact details and a first aid kit.
STAFF
The staff you will meet at the club are experienced OOSC staff members from our clubs at St Helen's, St Mary's, Bradley Stoke, Frenchay, Cherry Garden and St Mary's Thornbury: Mandy will be leading the sessions with, Viv, Freda, Cath (Leaders), Lauren, Kieran, Robyn P, Abbie, Mia, Sid, Renata, Marina, Francesca, George and Stuart. There will always be at least one qualified Paediatric first aider on site.
FEES / BOOKINGS
If you wish to make additional bookings the best way is online at www.oosc.co.uk
Bookings may usually be made in this way up to 10PM the night before the session. However if we reach our limit on that day, the booking will be unavailable. If you are having any difficulty with booking online, payment may be made at the club, but this will need to be with a cheque to 'OOSC' as we do not wish to keep large amounts of cash on the premises.
Please be aware we cannot accept children at the holiday club without payment in advance. Please do not put the staff in a difficult position of having to turn children away.
Due to the necessity to maintain staff ratios and the difficulty filling session places at the last-minute, fees for bookings cancelled within one week of the session date are non-refundable.
Please remember the club closes at 6pm and collection after this time is fined at £3 per child, increasing by £3 every 5 minutes.
PHONE CONTACT:
Please contact 07767 218709 during club hours or email This email address is being protected from spambots. You need JavaScript enabled to view it. if you have any further queries. Last-minute bookings may be made via staff at the club, subject to availability
If we have not received this already, please complete the Holiday Club Registration form and Medical Form to ensure we have all your details and consent for activities on the premises at all times. If your children are new to the club it would be lovely if you could complete an All About Me sheet with them so we can develop their interests at the club.
Kind regards
Cath and the OOSC Staff team
PS Dont forget...
We take Childcare Vouchers
Meet the Staff