In September 2006 two mums of children at Olveston Primary School, Cath and Helen decided to set up an after school club at the school. Cath Purchase was having difficulty finding local childcare for her two young children in order to keep teaching part-time, and there seemed to be a growing need for after school care in the locality. They worked with the school, Ofsted and parents to provide a high-quality club where children could feel relaxed and have fun!
Since its opening in January 2007, Olveston Out of School Club has been committed to providing high quality care and education for the children. The club works closely with the school to provide a fun and relaxing environment where children have a range of play opportunities.In June 2008 the club was extended to include a breakfast club.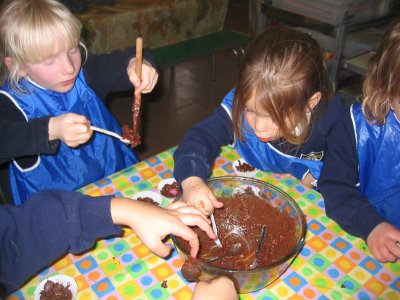 Since January 2009 Mr Alex Hill, who has been at the club since its opening, took over Helen's responsibilities as day care manager. Cath Purchase continues to manage the club, ably supported by a well-qualified and experienced staff team.
In September 2009 Cath and Alex were asked by the governors of St Helen's Primary School,Alveston, if they wished to set up a new after school club at the school. In April 2010 the club opened from the school hall, and October 2010 the club moved to its own club room in the school grounds. Both clubs achieved successful Ofsted inspections in summer 2010, achieving 'Good' overall, with some 'Outstanding' at St Helen's. The OOSC Holiday Club opened in Summer 2011 and runs from the St Helen's Club room and school grounds.
In October 2010 the Parents' Forum of St Mary's Primary School, Thornbury contacted Cath and Alex for advice about setting up an Out of School Club. Another successful liaison began, and a third club opened at the school in June 2011.In May 2012 St Mary's was onspected by Ofsted and was awarded a grade of Good with Outstanding features. A well-deserved report which greatly praised the club. The club has been reinspected in December 2015 and received a grade of Outstanding in all areas. Another amazing achievement!
In October 2013, Cath and Alex worked closely with the headteacher and parents of St Mary's R.C. School Bradley Stoke where a new club opened on April 22nd 2014. The club runs from St Joseph's centre and is proving very popular. Ofsted inspected the club after less than 3 months of opening...with a 'Good' grade awarded in July 2014.
After requests from the schools, in September 2014 we openened clubs at Frenchay C of E school and Cherry Garden Primary. Frenchay club offers before and after school care.Cherry Garden club was inspected by Ofsted in March 2016 and received a grade of Outstanding in all areas. An amazing achievement and well-deserved!
In November 2015 Mrs Anna Morris from Avon Primary School in Shirehampton contacted Cath and Alex to set up a club in their school. Mrs Morris was keen to bring the high-quality care she'd seen at Olveston school into their school! The club opened in June 2016 and is already very popular with the children and parents.
OOSC has grown over the years to become a large team of of Managers, Leaders, Playworkers and a steadily growing admin team. But our ethos always remains the same. We pride ourselves on offering high quality childcare where children can relax, play and have fun in a safe and secure environment.